Watch Video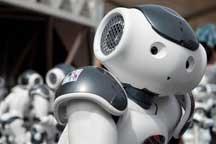 Play Video
France Pavilion Day opens at the Shanghai World Expo on Monday. Music, food, art, and a vertical garden at the center of the pavilion immerse visitors in the essence of the country renowned for its romance and elegance. Let's stop in and feel some of that energy for ourselves.
France Pavilion Day coincides with the country's world-wide celebration of "Fete De La Musique." So naturally, music is the name of the game and keeps the atmosphere bubbling.
While a band composed of members from France, China, and Mauritius jazz things up out on the plaza, singers take to the stage within the pavilion playing the country's modern beats to welcome those coming in.
With "The Sensual City" being the theme, France pavilion aims to impact all five senses. A zone called "sense of smell," is imbued with all kinds of scents; roses, grass, coffee, and perfume, just to name a few. The scents are mixed by professionals from the country.
While the sense of taste is provided by a restaurant run by French chefs. Patrons can witness how the food is made and served, through the transparent kitchen, or a video installed on the wall. Then they enjoy the dishes on the roof-top dining area.
The vertical garden, at the center of the pavilion overwhelms visitors with its greenery. It serves as a reminder that the country embraces nature just as it embraces art and fashion.
Franck Serrano, director of France Pavilion, said, "The garden is built for both beauty, and an eco-friendly feel. Our pavilion covers an area of 6000 square meters, and by using it this way, the plants cover an area of more than 2000 square meters. The design is simple and novel."
Rounding out the trip of senses, is touch. Frenchmen use their flair for art into every detail of life. Here they have provided the varying textures of touchable tiles.