Watch Video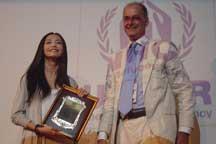 Play Video
China has focused this year's World Refugee Day activities at the Shanghai Expo. The UN refugee agency launched its most ambitious program of World Refugee Day events over the weekend with major events organized in Damascus, Shanghai, and Washington DC.
On Sunday, popular Chinese actress Yao Chen was presented with a plaque appointing her as honorary patron of the United Nations High Commission for Refugees for the next year.
On stage in Shanghai at the World Expo, she told the public how refugees living in cities can contribute to their host countries if allowed.
Showing video and photos of a recent trip to the Philippines to meet refugees from Africa and the Middle East, Yao Chen told visitors that her trip dispelled the image most people in China have that refugees only live in camps and are "people with thin faces and fearful eyes."
Yao Chen, UNHCR honorary patron, said, "They harbor fears in their hearts. But their biggest wish is to be accepted by the city as soon as possible and find self-identity there. The city can provide them with opportunities to realize their self-worth. Many may think refugees are a burden of nation. But in fact, they are not."
With the global trend of urbanization, more and more refugees are leaving their camps for big cities. Half of the global refugees are now living in cities or towns and most of them are from developing countries.
A photography exhibition was also held at the Shanghai Expo to coincide with World Refugee Day. "Invisible in the City: the Lives of Urban Refugees" by award-wining photography Zalmai opened over the weekend and will run for two weeks. It depicts displaced people in Johannesburg, Bogota and Kuala Lumpur.