Watch Video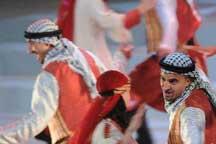 Play Video
An art exhibition encapsulating the best of contemporary visual arts, calligraphy, and paintings from Arab countries opened on Monday at the Capital Museum in Beijing.
The show marks the beginning of the second Arabic Arts Festival, and aims to strengthen ties between China and Arab countries.
From exquisitely painted plates, Arabic calligraphy and paintings, to glittering accessories and ornaments, the exhibition features a wide range of well-selected contributions from 16 Arab countries that best represent the art and culture of each nation. On display are more than three hundred exhibits from Egypt, Morocco, and Palestine, just to name a few.
The exhibition brings together both veteran and emerging artists from the Arab world. Visitors are thrilled not only by how the artists fuse traditional and modern elements, but also the interaction and integration of different cultures that reflect art's ability to transcend boundaries.
These two paintings were created by Omani artist Saif Al Amri. Talking about being a part of this cultural exchange program, Amri couldn't be more excited.
Present at the grand opening ceremony of the exhibition were officials and representatives from China and 11 Arab countries, who joined forces in launching the event.
Apart from the art exhibition, the second Arabic Arts Festival also features four song and dance performances by Arabic artists in Beijing and Shanghai, as well as a Sino-Arabic Cultural Forum on future cooperation and cultural diversity.
The exhibition runs at the Capital Museum in Beijing until Friday.