Watch Video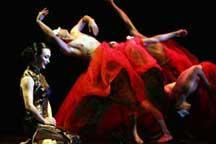 Play Video
"Martlet" is performed by dancers from the Beijing Dance Theater. It's a dance troupe with a repertoire that includes traditional ballets as well as contemporary pieces, but although it has gained a steadily growing fan-base since its establishment at the end of 2008, the dance troupe is still in the early stages of development.
Modern dance, which often fuses elements of ballet and opera, is thought to reflect people's inner state of mind. Chinese artists say that what they care about most is decoding the social changes and current living environment in with their works.
Wang Yuanyuan, director of BJ Contemporary Dance Theater, said, "We live in the moment, and we feel the pulse of the present. China has made great achievements over the years and it seems everybody is watching China grow. But what the outside world really cares about is what China is like now, and to what degree art in China has evolved. Unfortunately, the domestic audience isn't as concerned about these things as foreigners and that's what we need to work on to cultivate an environment for enjoying arts."
Wang adds that many people complain they don't understand contemporary dance, because sometimes they are far too abstract and sophisticated.
Wang said, "Many think that contemporary dance ought to be understandable to be appreciated. What they mean is that they need to understand the story of a dance show. But in many cases, a modern piece doesn't just tell a story. Instead, it focuses more on the psychological stuff, which needs interaction from the audience on a certain level."
"Martlet," a new work by the Beijing Contemporary Dance Theater, might be a good example to help domestic audiences better understand contemporary works.
In the piece, dancers present the most touching details of the lives of a huge portion of people who live in the capital, those who come from other parts of the country, desperately pursuing their dreams, and all with varying degrees of success, right here in Beijing.
Editor:Liu Fang |Source: CCTV.com