Watch Video
Play Video
Who is the biggest star of the year? High on just about anybody's list in China would be Haibao, the mascot of Shanghai World Expo. Big or small, in public squares or on souvenirs, the cute blue figure is everywhere in Shanghai.
And now, it's touring the country telling its adventure as a stage drama. Ahead of the show coming to Beijing next month, the cast and crew met the media on Tuesday.
It's a time travel tale for Haibao. Set in prehistoric China, the play unfolds how the mascot and its friends fight against pollution in the imaginary Rainbow City. The usual plot of good vs. evil is enchanted with high-tech effects and new ideas. It's a fun time of learning for young audience members.
Zhao Zehui, director of children's play "Haibao", said, "Devices on the stage change to send the message of science. In the play, the electricity system of Rainbow City is fully displayed. It's wind that makes the power. We also show how rubbish is disposed."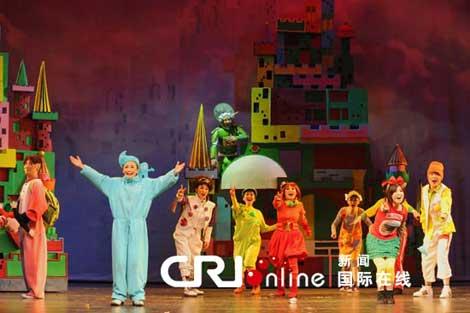 Still of children's play "Haibao"
How does the play deliver a clear scientific message without being dull? The young viewers themselves help the most. Early in pre-production, directors and writers opened their ears to advice from children. The result is that now the play contains more audience interaction. The idea has worked out very well in the previous 30 performances in ten cities since its debut in April at the Expo.
Wang Ying, general manager of Beijing Children's Art Theatre, said, "For instance, the audience decides how to treat the rubbish, throw it away or recycle it. The performers then follow the audience's choice. For children, it's more impressive than the traditional expression."
The play "Haibao" will be staged at Beijing's Capital Theatre from July 16th to August 1st. After that, the tour continues.