Watch Video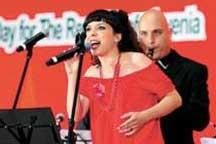 Play Video
The Republic of Slovenia celebrates its National Pavilion Day on Thursday in Shanghai. The European country, famed for its various ethnic groups of people and culture, takes the theme of "Integration of Diversity" for its pavilion at World Expo Park.
The National Pavilion Day celebration started with "Sound of Slovenia," a musical program which included a lot of big names from the country.
The design of the Slovenia Pavilion comes from a book, with its obverse side resembling a bookshelf and thousands of books in all styles listed on it. The country's love of books earned its capital city Ljubljana the honorary title "World Book Capital" by UNESCO in 2010. Staff members say the library is a popular hangout for Slovenian people. A desk lamp in the Slovenia National Library is also displayed. It is designed by famous local architect Jose Plecnik. The book under the lights is titled "Cattechismuc and Abecedarium." It was the first book printed in Slovenian, published in 1550.
Slovenia is home to many internationally renowned designers. This platinum bracelet, for example is a work by Lara Bohinc, Designer of 2009 Elle Fashion. And this lamp by Nika Zupanc was voted as the Most fashionable Item in 2008 by New York Times Fashion magazine.
The country's pavilion is being highlighted with another name, Hermann Noordung, the Slovenian scientist who introduced a spinning wheel station in space in 1929.
The Slovenians not only like to read, but to sing and perform as well. Ma Daiya, the lead singer from Sound of Slovenia, is performing a popular Chinese song "Moon Represents My Heart."
The fluent Chinese is the result of two weeks of intensive training since the group arrived in Shanghai. The group members said that they were fascinated by Chinese music and were honored to perform for the World Expo visitors.