Watch Video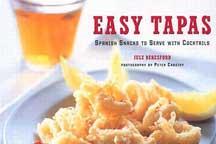 Play Video
Spain, with one loss and one win at the ongoing FIFA World Cup, has one match left in division H. They take on Chile on Saturday. And for the first time ever, Spain's national team was picked as an early favorite alongside Brazil to win the competition.
Naturally, many of their countrymen are following the games closely, and as they watch, they eat their signature food, tapas.
Late spring in Barcelona, tourists and locals alike are gathered at Barceloneta beach enjoying life at a Spanish pace.
But this year's World Cup has much of the country in a state of frenzy.
Spaniards are well-known "forofos" - that's the local word for football supporter - and no football evening is complete without a tapas meal, that is something light before a formal dinner washed down with wine or beer.
The "Els Fogons" restaurant is a Michelin starred venue where diners can enjoy some of the best tapas in town. Because Barcelona is by the Mediterranean sea, most local tapas consists of fish and seafood.
Angel Manubens, chef, said, "Some people get hungry whereas others lose their appetite. Depending whether your favorite team is winning or losing. But I think that eating tapas while watching football is a way to bond with friends. We just get together and talk football. Tapas is a perfect excuse for you to eat while watching the game."
A native Spaniard, Alejandra Garcia has lived most of her life away from home - in Argentina and the United States.
She brought her husband and sons to Barcelona - the home town of their favorite football team - to watch the World Cup and hopefully take part in the victory celebrations.
Alejandra Garcia, diner, said, "Eating sardines, breaded squid and vegetables and above all thinking that Spain is one of the strongest candidates to win the World Cup!"
So, at least for now, until the final whistle on July 11th, tapas will dominate the dining scene in Spain to help the "forofos" ensure they don't miss one minute of their favorite sport.
Editor:Liu Fang |Source: CCTV.com