Watch Video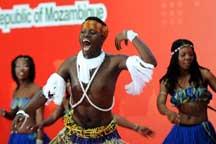 Play Video
The Republic of Mozambique celebrated its National Pavilion Day at the Shanghai World Expo on Friday. Located on the southeast coast of Africa, Mozambique is still one of the most impoverished nations in the world.
However, it has been an active participant at the World Expo many times. So, let's see what they have to offer this time.
Fusing centuries-old artistic traditions into song and dance, a prestigious theatre from Mozambique presented an exotic show at the opening ceremony. The performance included traditional dances such as Makway and Ngoma. The artists brought their luminous costumes, technical polish, creative panache, and seemingly inexhaustible energy for the audience to enjoy.
With the theme of "Better District, Better Life", the pavilion is divided into four areas: a school, a traditional cottage, a modern residential building, and a hospital. The modern residential building is a place for welcoming visitors and displaying information. The school, symbolizing the country's education and culture, is rectangular in shape and made of traditional materials. The hospital represents Mozambique's achievements in science and technology. And the small cottage showcases its tourism industry.
Known as the home of cashews, Mozambique is a favorite tourist destination in Africa. It has an ecologically rich and diverse wildlife, with 232 species of mammals and 740 species of birds. Limpopo, the largest national park on the continent, leads the other five parks and makes Mozambique a paradise for animal lovers.
The area was explored by Vasco da Gama in 1498 and colonized by Portugal in 1505. Mozambique became independent in 1975, and in the same year, established diplomatic relations with China.