Watch Video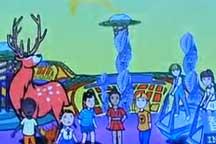 Play Video
At the World Expo in Shanghai, an animated film is taking a look at the interaction between the eco-system, energy, and man's relationship with outer space.
The movie, which is featured in the Urban Future Pavilion,examines the various possibilities of life in the future. Let's find out more.
Five kids of different nationalities accompany visitors on their trip into different visions of the future.
The Eco City is lush with forests and wild animals, where the pedestrian streets have become playgrounds for children, and factories and transportation systems have been built beneath the ground. The land above is reserved only for walking and leisure activities.
In the City of Wisdom, the computer chip is key to enhancing a person's learning. Giant screens on the street provide continuing education, and there is more time for environmental protection and preserving the equilibrium of the eco-system.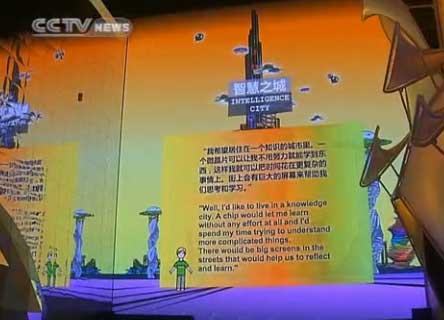 In the City of Wisdom, the computer chip is key to enhancing a person's
learning.
The City of Water resembles a park, upon which residents build structures with spectacular views. People swim around like fish, with the aid of artificial gills.
In the City of Space, the distance between earth and Space is considerably shortened. People commute through a "space tunnel", in a specially built space craft.
And solar power will be the main source of power in the City of Energy. Its buildings emit less carbon, with residents enjoying a comfortable life powered by clean energy.
Officials from the World Expo bureau say that the film provides thought for developers, with its five cities representing the imminent challenges we all face, as we head into the future.
Related stories