Watch Video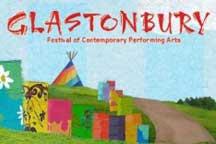 Play Video
The 40th Glastonbury Music Festival is underway in the UK. The Gorillaz are this year's main headline act and are being joined by British rapper Dizzie Rascal, Florence and the Machine and veteran country singer Willie Nelson.
The Gorillaz brought Arabic flutes, heavy rap and veteran rocker Lou Reed to the music festival in an eclectic set played before tens of thousands of revellers.
The Gorillaz fronted by Damon Albarn of Blur fame was called-in at the last minute for one of the music world's biggest events after Irish rockers U2 pulled out when lead singer Bono had emergency surgery on his back.
About 150,000 people gathered on a dairy farm in southwest England to see the Gorillaz and Shakira, Snoop Dogg, Stevie Wonder, Muse and Kylie Minogue, who were all expected to take the stage by the close on Sunday night.
Sweltering temperatures meant this year the festival could not feature the festival's famous rain and mud baths.
Instead, it is bare chests and bikinis as revellers soak up the sun, atmosphere and plenty of beer.
British hip-hop artist Dizzee Rascal wowed the crowd earlier in the day with hits including "Bonkers," "Holiday" and "Dirtee Disco," and was joined on stage by Florence Welch of Florence and the Machine to perform "You Got the Dirtee Love."
Other performances included veteran country singer Willie Nelson who last performed at Glastonbury in 2000 and Florence and the Machine.
The festival, which caters for every musical taste across dozens of stages, celebrates its 40th year in 2010.
Heir-to-the-throne Prince Charles visited the sprawling site covered in a colorful sea of tents on Thursday.
Editor:Liu Fang |Source: CCTV.com