Watch Video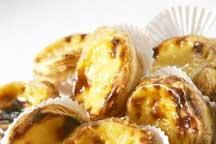 Play Video
In Iberian Peninsula, despite the ongoing concerns about Portugal's economy, one business is defying the odds. It's a cafe that sells custard tarts tasty enough to cause large queues of customers to snake around the streets outside waiting to get in. But, if they were hoping a getting a copy of the top secret recipe, they're out of luck.
Lisbon's Belem neighbourhood is where Portuguese explorers launched their missions to the new world.
These days a massive draw card for tourists is in the shape of sweet, warm and gooey custard tarts, known as Pasteis de Belem.
Nuns in the nearby Jeronimos Monastery used to bake the tarts by hand, selling them to visitors to the area. Then the baker behind the tarts' secret recipe set up this shop in 1837.
Nearly 180 years later, the custard tarts are still hand-made in the same place. The chefs who know the recipe work in a room that is strictly off limits to visitors.
Miguel Clarinha, manager of ANTIGA, said, "This is where our three chefs, the three people that know the recipe, make the dough and the cream every day. What we can see, what we do with the dough and the cream, after they come out of the secret shop."
It might be an old recipe, but modern influences have crept in to the production process. Now, machines squirt the silky custard into the dough-covered baking dishes. Industrial ovens have also replaced traditional ones.
The creamy custard is filled with hints of cinnamon and vanilla blends along with the delightful crunchy, crispy pastry.
Alexander Silva, tourist, said, "I've had them when I was a kid, so I always remembered the taste. When I had a flashback recently, I decided to come here. I think this is one of the best places you can find custard tarts."
The workers churn out between 15-thousand and 50-thousand tarts every day, just to keep up with a continuous influx of hungry and curious visitors.
Editor:Liu Fang |Source: CCTV.com