Watch Video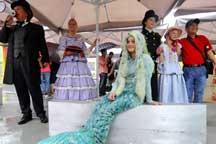 Play Video
Denmark celebrates its National Pavilion Day at the 2010 Shanghai World Expo on Tuesday. The Denmark Pavilion showcases a fairy tale world with the famed Little Mermaid statue, the country's symbol, who is making her very first visit outside her homeland.
The Denmark Pavilion consists of an outdoor and an indoor area that are interconnected with each other. The Pavilion aims to give visitors the chance to savor the best aspects of Danish urban life.
The Denmark Pavilion is called "Welfairytales", which is a blend of the words Welfare and Fairy Tale. It features a salt water pool filled with water from the Danish harbor, in which sits the Litter Mermaid statue.
Denmark chose to have the 96-year-old statue make her first trip abroad to provide a centerpiece for its Expo pavilion.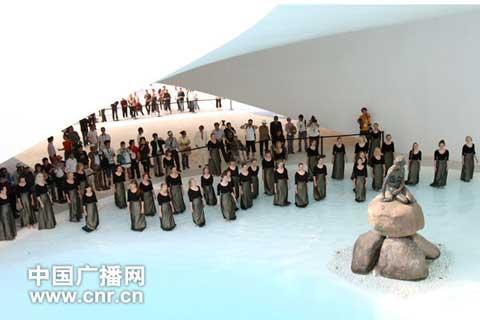 Denmark celebrates its National Pavilion Day at the 2010 Shanghai World Expo.
The statue was first unveiled in August 1913 and hasn't been moved from her perch above the harbor since, except to undergo repairs after a series of attacks by vandals.
In Andersen's tale, the mermaid is a sea king's daughter who falls in love with a prince and must wait 300 years to become human.
Also, at the Denmark Pavilion, visitors can ride rented bicycles as the Danes do in Copenhagen. At the entrance of the Pavilion, 1500 city bikes are available for visitors to ride throughout the Pavilion, to promote environmentally friendly concepts.
Apart from the Little Mermaid and bicycles, visitors are invited to sample authentic Danish delicacies. They will be guided through an exclusive culinary journey that gets its start from a traditional Danish kitchen. In the Pavilion, the kitchen includes some modern touches with fresh and fine ingredients commonly enjoyed in Denmark.