Watch Video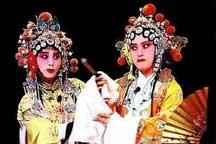 Play Video
Jinju is a form of traditional performing art popularized in North China's Shanxi Province during the late Qing Dynasty.
Recently, a Jinju Opera brought by artists from Shanxi was staged in Beijing. What sets this one apart from others is that it combines new elements in both its singing and musical arrangements. The innovations have proved to be successful with the younger generation.
Entitled "Emperor Liuheng in Jinyang," the show follows the story of Liu Heng, an emperor of the Han Dynasty, and his mother, Consort Bo, who joined forces in suppressing rebellions after Emperor Gaozu of Han died. Thanks to the thoughtfulness and humanity of Bo, Liu Heng's reign was given a much needed political stability, and it laid the groundwork for the prosperity of his successors.
The show incorporates vividly created props and stage design, a rarity in traditional opera shows. And according to Artistic Director Shi Jiahua, the show boasts a number of new elements.
Shi Jiahua, artistic director, said, "We've adapted the musical accompaniment, based on the original version. Besides traditional instruments, we also employ the horse-head stringed instruments, a symphony orchestra, and a chorus group, which are combined to give the show a contemporary twist."
Jinju Opera "Emperor Liuheng in Jinyang" has toured around the country with stops in Shenzhen, Henan, Shanghai, and Beijing.
Its Beijing leg has proved to be a big success, as the packed house gave a standing ovation that lasted approximately ten minutes.
Editor:Liu Fang |Source: CCTV.com