Watch Video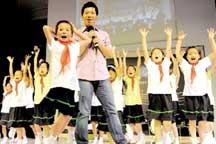 Play Video
A new charity initiative, the "Happy Music Classroom Program," has been launched in Beijing. The program aims to furnish proper music classrooms in 125 Hope Schools and bring the beautiful sound of music to more than 40-thousand students across China.
The initiative is off to a lively start along with the voices of Project Hope music ambassadors Yu Quan, and a group of Hope School children singing to the tunes of the program's theme song "Happy Singing," which is also penned by the famous singing duo.
The program is part of Project Hope, which aims to bring more schools into poverty-stricken rural areas of China.
The China Youth Development Foundation is working in partnership with the automobile giant Mercedes-Benz to launch the event "Inspiring the Future" to help children realize their musical dreams.
The auto giant donated 4.3-million yuan to equip the schools with proper music instruments and teaching facilities. At the same time, school teachers will also receive proper training for music education.
According to research, 79 percent of Hope Schools lack proper music classrooms for lessons. Furthermore, nearly 80 percent of all Hope Schools do not have trained music teachers, and almost half of all students surveyed are unable to hum the seven music notes accurately due to the lack of proper music education.
With the "Happy Music Classroom Program," the students will be offered opportunity to develop their music skills and interests, and can learn more in their music classes.
Editor:Liu Fang |Source: CCTV.com