Watch Video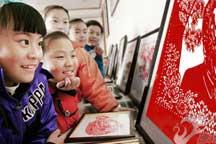 Play Video
As with other traditional folk arts, paper cut is dealing with the issue of innovation and inheritance. That is, how can this precious handicraft be rejuvenated?
Since being recognized as a national intangible cultural heritage, paper cut has gradually attracted more people from the younger generation. They possess fresher tastes and a strong determination to pursue new technics when they join the team.
The younger artists are trying to keep a balance between inheriting the traditional craftsmanship and introducing new ideas into this ancient handicraft. They find inspiration from various other art forms including wood engraving and canvas painting.
By being more diversified and innovative, they hope to secure a promising future for the craft.
Editor:Liu Fang |Source: CCTV.com