Watch Video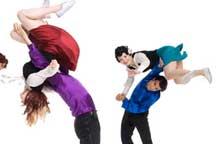 Play Video
In Berlin, the Lindy Hop, Fox-trot, and Swing dances are once again being practiced with a passion.
People who are into history mix with tourists and 20-something partygoers seeking an alternative to the city's well-known house and techno scene. Now, they're looking for something more elegant and sophisticated.
Vintage fashion has been big news for several seasons, but now designers and fashionistas are looking to the 1920s, thirties and forties for inspiration.
Rope belts, dangling pocket watches and dandified suspenders are the season's must-have accessories, all reminiscent of the silver screen in the 1920s.
Dancing was a hallmark of 1920s Berlin, and vintage parties are once again popular in the German capital.
Jeans and sports shoes are banned, but partygoers are encouraged to interpret the spirit of the times, by wearing period dress, anything from the 1920s to 40s is acceptable.
The beats provided by a jazz piano, double-bass and drum help create the sense of stepping back in time.
Several shops across the capital offer original vintage apparel or ensembles cut from vintage patterns.
Andrea Kersch, owner of Fashion Stone, said, "I think the reason why people go to those parties is because we have difficult times right now and one can see parallels to the past. People try to escape the grey daily life."
In a modern world wracked with its own financial crises and concerns, the dance floor provides the ultimate escape.
Isabella Drieschel, vintage fan, said, "This is what the people need today. A lot of them have nine-to-five jobs where they have to wear certain clothes. They want to express themselves, and fashion from the 1920's is very open to do so."
Since shedding its Cold War divisions with Germany's reunification in 1990, Berlin has emerged as one of Europe's leading tourist destinations, luring nearly 19 million visitors in 2009, many of them attracted its vibrant nightlife.
Editor:Liu Fang |Source: CCTV.com