Watch Video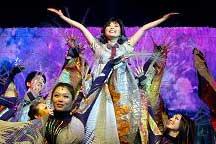 Play Video
Liang Shanbo and Zhu Yingtai are the eastern version of "Romeo and Juliet." Another difference is that the Chinese story happens eight centuries earlier and the ending is more mythic: after death, the lovers transform into butterflies. That's why, in English, they are interpreted as "The Butterfly Lovers." Throughout ages, this famous love tragedy has been interpreted in a wide variety of art forms.
Now, it's been produced as a western-style musical. But does the audience like it? And can the show serve as a guide to lead other original Chinese musicals under the spotlight? Our reporter Zhang Song went to find the answers.
It's China's top engineering university Tsinghua. It should be a normal Wednesday afternoon, but someone wants to make a difference. A free performance is staged to nurture the potential audience. Today, they are treated by some excerpts from the old love tragedy butterfly lovers, but what they heard sounded like a musical on Broadway.
An audience member said, "I like the music a lot. It reminds me of 'Norte Dame in Paris'. However, I'm a bit disappointed not hearing any traditional Chinese music. Anyway, I'm quite curious about the whole show, and I'm gonna get a ticket for it if the show is coming to Beijing."
An audience member said, "The musical contains many Chinese elements, but in general, it's not mature. I would like to pay some 30 dollars, but I would pay double to watch musicals like 'Cats.'"
Zhang Song said, "These comments from the students will be heard by the cast and crew. As always, the production team open their ears to the viewers. They analyze the suggestions and then refine their work over and over. The latest version is the sixth edition, but not the final one."
With an ambition to make China's best original musical, the production company first made the biggest investment in the country's history, around 60 million yuan or nearly 9 million US dollars. That made it possible to bring in top European stage and costume designers, build a professional troupe of young Chinese performers, and commission talented Chinese composers and writers to give the old tale new tunes and a new lease on life.
It's a big and bold attempt to adapt the classic butterfly lovers' romance, which is so familiar and popular to most Chinese.
An audience member said, "Very stylish. It's quite different from the original love tragedy. It's an overthrow to the tradition."
Li Dun, director of musical "Butterflies", said, "It's a modernized version of the ancient butterfly lovers story. It's a musical to discover the nature of human beings. It's very open. One thousand people will have one thousand reactions."
"Butterflies" is among the few domestic original musicals that could made a hit. The biggest competition comes from Broadway's popular musicals including "Cats", "The Phantom of the Opera", "Les Miserables", "Mama Mia" and "The Lion King". These imported musicals occupy the lion's share of musicals staged in China, and they are sell well.
Those who want to change the situation are learning from Broadway's mature production flow and trying to make it work in China. Rather than copying the success, what they need most is to create their own completely original musicals, including everything from the content, to the way it is expressed. In their favor, they have broad and diverse inspiration coming from a fast-changing modern China, or from its long history and a rich culture.
Editor:Liu Fang |Source: CCTV.com