Watch Video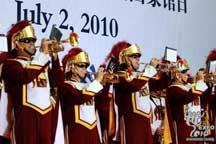 Play Video
The United States welcomes its National Pavilion Day at the Shanghai World Expo on Friday, just two days before its Independence Day. The celebration was full of enthusiasm and friendship toward the Chinese people.
The USC Trojan Marching Band opened the celebration with a parade. The group is on their fifth appearance at a World Expo and fourth visit to China in the past eight years. As University of Southern California's goodwill ambassador, the band has traveled to 17 countries and regions on six continents.
Also highlighting the celebration are opera singer Angela Brown, and songwriter and banjo player Abigail Washburn. Having once lived in Southwest China's Sichuan Province, Wahsburn co-produced a benefit album called "Afterquake," a folk/electronic project recorded in the Sichuan earthquake zone featuring remixed voices and sounds from the region. She donated all proceeds to the relief effort.
The USA Pavilion is a mammoth gray structure meant to resemble an eagle stretching its wings in welcome. With the theme "Rising to the Challenge," the internal pavilion features models of American cities in the future, emphasizing clean energy, green space, and roof gardens. The 61-million US Dollar hall leads visitors through four unique sections: "Welcome to America", "Spirit of America", "The Garden", and "Opportunities and Innovation." The sections illustrate the American spirit of perseverance, innovation, and community-building in a multi-dimensional, hi-tech presentation. The hall presents the U.S. as a place of opportunity and diversity, where people come together to change their communities for the better.
The highlight of the pavilion might be a 4-D film in the third section called "The Garden." The film tells the story of an American girl who finds a vacant city lot and begins to imagine building a lavish garden on it. Her neighbors, inspired by the girl's passion and determination, join her to transform their community into a place they are proud to call home.
Editor:Zhang Pengfei |Source: CNTV.CN