Watch Video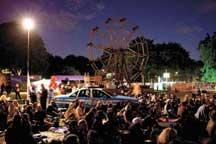 Play Video
Have you ever fancied being a Ghostbuster, Goonie, or Blade Runner? A group of filmmakers and artists came together with their passion for cinema and social media to form Secret Cinema. It's a near monthly event in the British capital that invites people to put on fancy costumes and screen legendary films in secret locations.
Obscure places used for the now three-year-old event could be as wide ranging as a disused car park, a derelict movie theatre or a junk yard.
Participants first buy tickets without knowing which film they will be seeing and are sent clues every week with the final week instructing people of a variety of costumes they can wear.
Films which have been screened in the past include "Bugsy" where participants were asked to dress in 1940s attire, "Wings of Desire" in 1980s bohemia, or the most recent "Blade Runner" which saw people dressed cyber punk, future neon, Arabian, Oriental, Futuristic, or PVC.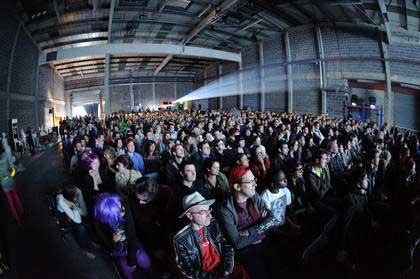 Secret Cinema, the film club that screens films across London in a covert
manner, is set to have its biggest year yet in 2010.
Secret Cinema's Fabian Riggall founded the event as part of the Future Shorts program, which brings short films to different cities around the world.
Rigall said with the information overload in today's technological age, he wanted to create something that had an air of mystery about it.
Fabian Riga, founder of Secret Cinema, said, "I think people like mysteries and they like secrets. You know it's the same when a your friend makes a surprise and has a surprise birthday party for you and it's the best night of your life. It's like all of these people have thought about me. And I think that's what this is about, that there are 6000 people attending this event and none of them know what it is or where it is and they're trusting us as a team to bring it to life."
About 240 actors and crew members help Riggall and his creative team make their ideas into a reality. The process takes about four to six weeks with "Blade Runner" event being the longest.
News of the event is spread word-of-mouth or through social networking sites like Facebook or Twitter, which is how the majority of the 800 people at the event last Wednesday heard about it. 6000 people in total participated by the end of last week.
Alex, participant, said, "I guess all the people dressed up wandering around gets you in the mood for the film so it's really good."
Emma, participant, said, "The set design is amazing and they've put so much effort into just creating this world so it's just a phenomenal event. We work in the events industry and it's really quite groundbreaking stuff that they're doing."
As people took their seats after consuming Chinese food, falafel, and alcohol, they cheered when the name of the long-awaited movie finally came on screen: "Blade Runner."
Editor:Liu Fang |Source: CCTV.com