Watch Video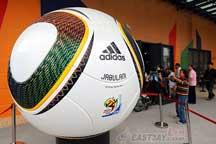 Play Video
The World Cup is well into its semifinals this week. And the World Expo is enjoying football fever at many of its pavilions. Let's get in on some of the action and start our journey from the pavilion of South Africa, host country of the 2010 World Cup.
The green-haired leopard is the mascot for this World Cup in South Africa. Zakumi in South African means "Come watch." So, Let's!
The South Africa Pavilion is inviting everyone to this football craze, starting with a football game for the little ones...and the not so little ones. The ball-shaped setting was done by the same designers who designed the football stadium for this year's World Cup.
The pavilions have set up lounges for visitors to enjoy the games.
The Dutch's love of football is evident from this mini-football pitch on top of Dutch Pavilion.
2-to-1, by this score the Netherlands team defeated Brazil in the quarterfinals. As the country with the most World Cup wins, Brazil has integrated the sport into its culture. The design of the Brazil Pavilion also comes from the green pitch. On the giant screen on the pavilion exterior, a virtual football game allows visitors to participate with their own cell-phones.
The man who wear's NO.10 soccer uniform not only includes Brazil's Pele, but also Diego Maradona from Argentina. This very shirt comes from the Boca Juniors, the Alma Mater team for Maradona.
Over at the Germany Pavilion, there's a display of football Jabulani and shoes made by Adidas for the World Cup.
Editor:Liu Fang |Source: CNTV.CN