Watch Video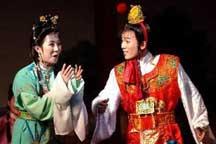 Play Video
"A Dream of Red Mansions," written by Cao Xueqin in the latter half of the 18th Century, is not only a great Chinese novel, but also a gem in world literature.
Over the years, China has adapted it into popular TV shows and films, but before it came to Beijing two months ago, few people knew that the literary classic had been made into an opera staged by the Democratic People's Republic of Korea. First created in the 1960s, the opera is a symbol of the long-standing friendship between China and the DPRK.
Yang Ran, from Culture Express, said, "I'm here at the theatre entrance inside the National Center for the Performing Arts in Beijing. We're getting ready to a watch the DPRK's operatic version of "A Dream of Red Mansions." The show premiered in Beijing in May and after touring around China, the production will conclude its China tour on Wednesday right here in the Chinese capital."
Everywhere the opera has traveled in the past two months, it has been warmly received. Now that it's back in the capital, it's being welcomed again, and with additional enthusiasm. Many audience members are familiar with classic DPRK art and culture from the past century. They have come now to recall youthful memories and see how the Chinese literary classic is adapted and presented as a Korean opera.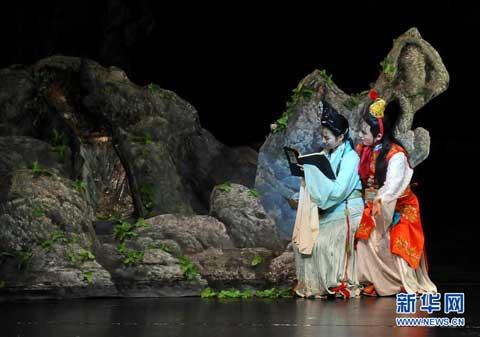 DPRK's operatic version of "A Dream of Red Mansions"
An audience member said, "I learned from the newspaper that the opera is directed by Kim Jong-Il, that really attracted me. Our memories about DPRK culture and art was from long time ago and I would like to refresh my knowledge to their modern development."
"The tickets of the play's Beijing premiere were sold out so I miss the show. I'm so glad that they are coming back. Korean culture is quite unfamiliar to me so I think it is a great opportunity to know about our neighboring country," said an audience member.
The opera, staying faithful to the original, has six acts and 10 scenes. The storyline follows the romantic tragedy between Jia Baoyu and Lin Daiyu. The plot and delicate sentiments of the characters proves the artists' deep understanding of the Chinese classic and their artistic perceptions.
Founded in 1971, the Sea of Blood Opera Troupe is DPRK's top-notched ensemble and represents the nation's very best in performing arts. The troupe has created several revolutionary operas including "The Flower Girl," "Tell the Story, Forest!" and other classic plays.