Watch Video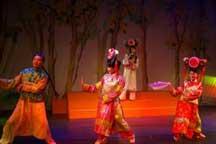 Play Video
To mark the occasion, director Le Hung, who is known as Vietnam's Zhang Yimou, has brought along his country's best children's play for China's young audiences to enjoy. Let's take a closer look from the debut on Monday night at China's Children's Art Theatre in Beijing.
The capital audience is being treated to some special programs tailored for this tour. From China's legendary Monkey King to the "Princesses Pearl" from the TV drama of the same name, these figures are both popular in China where they were born as well as in neighboring Vietnam. Now, they've made the connection easier between the performers from Vietnam on stage and the full house of Chinese viewers.
China and Vietnam share a lot not only in culture and tradition but also in the problems they are facing to keep old legacies alive in modern days. The man behind this performance, director Le Hung, is one of the few big names who is able to run a traditional performance well in Vietnam.
Le Hung, director, said, "Like the case in China, concerts of pop stars are sold well while traditional art is under a big threat in Vietnam. My way out of the embarrassment is to keep the essential features of traditional art while making necessary changes based on the demand of today's audience. The key to success is whether you can reflect people's needs on stage or not."
Since its founding in 1978, this is the first time that the Vietnam Youth Song and Dance Theatre has visited China, but of course not the last one. It's been promised that they will come back with a big show on a big stage soon.
In response, China's Children's Art Theatre is checking out if one of their performances would be popular in Vietnam this October.
Editor:Liu Fang |Source: CCTV.com