Watch Video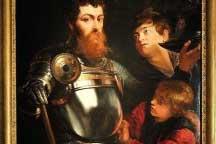 Play Video
A painting by Flemish master Peter Paul Rubens, put up for auction by the aristocratic family of the late Princess Diana as part of a clearout sale, sold on Tuesday for 9 million pounds.
Christies' Old Master and 19th Century Auction features 68 paintings, drawings, and water-colors representing 600 years of European art history.
The highlights of a collection that includes paintings, furniture, porcelains, and horse-drawn carriages are works by Rubens and 17th century Italian master Il Guercino.
The Rubens piece, "A Commander being armed for Battle," was painted in 1613-or-14 and was valued between 8-to-12 million pounds. The bearded man gazing toward the viewer has been named by some experts as Emperor Charles V.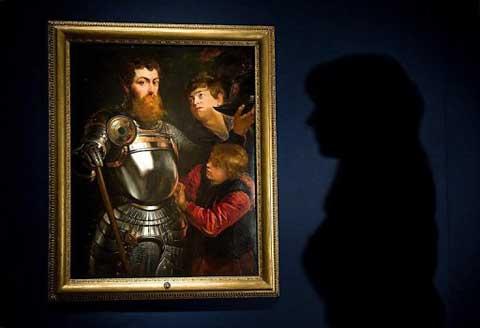 A Christie's employee looks at a painting entitled 'A Commander being armed for
Battle'
The painting has been at the late princess's family home Althorp for more than 200 years, and was originally described as the "School of Rubens" in the 1802 inventory. Since then it has been recognized as a Rubens original by leading scholars.
Paul Raison, Christies' head of Old Masters Pictures, said, "Absolutely it's very exciting. It's a very very good example of Rubens' work and he's an artist who was quite prolific but incredibly important in his time."
Another work by Rubens, "The Massacre of the Innocents," sold for 49.5 million pounds at Sotheby's in London in 2002 - a world auction record for an old master.
Paul Raison said, "Well Rubens as an artist has come up from time to time on the market but a picture of this quality is very, very unusual. There probably hasn't been a picture of this quality by Rubens since - probably about ten years in fact."
The Rubens painting is considered to be one of the most valuable examples of the master's work still held in private hands.
Editor:Liu Fang |Source: CCTV.com