Watch Video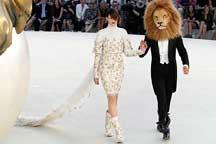 Play Video
A riot of fashion dazzled Paris on Tuesday. A giant lion towered over the catwalk at the Chanel haute couture show, with designer Karl Lagerfeld showing he was king of the fashion jungle. Giorgio Armani delivered a classical look, and Stephane Rolland looked to the ocean for fall-winter 2011. Now, let's take a look at the shows.
Born in August, Coco Chanel was a Leo. So it's only logical - according to the over-the-top rationale of the luxury giant she founded - that the label's spectacular fall-winter 2011 haute couture show be held beneath a mammoth golden lion.
The beast, created by set designers of the Paris opera, snarled overhead as the models emerged from a giant pearl the oversized paw was resting on.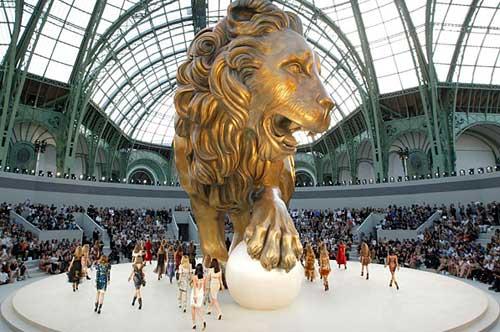 The Chanel Haute Couture Fall/Winter 2010-2011 show by German fashion designer Karl
Lagerfeld.
The label's reigning king, designer Karl Lagerfeld, sent out a regal collection of A-line dresses and sheaths fitted with cropped square-shaped jackets with half sleeves. Many of the looks, in rich reds, purples and chocolate browns, were entirely covered in sequins that glinted wildly under the flashes of hundreds of cameras.
Karl Lagerfeld said, "Yeah, because it makes the body very tiny, and it's better than a clinched waist, and it gives flexibility to it, because if you have something like this fixed in the waist you can't move. This is also about moving, about ease, about a modern approach to very expensive things."
The man who built an empire on his impeccable taste, Giorgio Armani, turned out even more refined elegance Tuesday, delivering a fall-winter 2011 collection of classic looks in a neutral palette.
An army of blondes in identical honey-colored wigs minced their way down the catwalk in pencil skirts and second-skin evening gowns so slim they constricted the models' gait.
Though less blingy than in seasons past, when it seemed that every conceivable surface was smothered in Swarovski crystals, the collection had just the right dose of sparkle.
Also on Tuesday, Stephane Rolland looked to the ocean for his collection of sculptural gowns in deep sea blue adorned by oblong appliques that evoked the smooth, wave-caressed shapes of beach stones.
Stephane Rolland said, "My collection is very oriented on sculpture, and when I saw the sculpture of Anish Kapoor, in Chicago, The cloud, the famous cloud gate, in metal reflecting the sky, with an urban - sorry my English - with an urban ambiance, I said this is exactly what I want for my show - my collection, not a show."
It was a pared-down collection for Rolland, who last season delivered dresses that bristled with mosaics of Plexiglass spikes, like a dinosaur's armor. Where that collection was all hard lines and edges, Tuesday's was about fluidity and liquidity.
Floor-length capes that were built into the long-sleeve sheath dresses fluttered like gently running water as the models walked. The train on a slate-colored evening gown jiggled like liquid mercury.
Related stories