Watch Video
Play Video
"Oh, the times, they are a changin'" in Afghanistan, and young musicians are attracting new audiences.
Just a decade ago, playing instruments was forbidden by the Taliban. But now the musicians of Kabul are putting all that behind them.
Afghanistan's first Indie rock band "Kabul Dreams," is performing from their new album "I wanna run away."
Some ten years ago, when the Taliban ruled Kabul, a concert like this would have landed them in jail.
Playing musical instruments was banned. Only singing was allowed, and even then, only songs praising Allah or the Taliban.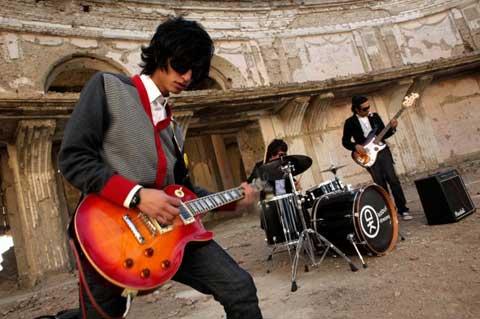 Afghanistan's first Indie rock band "Kabul Dreams"
Today, a stream of Afghans and expats pour into a tightly guarded compound and gather around a makeshift stage cobbled together with improvised lighting and sound systems.
The audience is a hundred strong, but compared to just a few years earlier, where rock performances were unheard of, this is a massive turnout.
The band's choice to perform only in English has limited its appeal to mainly educated Afghans and expats, but the group says their choice of language will help them to spread their message about Afghanistan to an international audience.
Siddique Ahmed, bass player, said, "What we usually get on the news is about war, Taliban and insurgency and everything. While that's true that that's happening in Afghanistan, but that's not the only thing happening in Afghanistan, I keep on saying that all the time. There are lot's of young people living here and they have a life like any other young people in any other part of the world, they enjoy themselves, they enjoy music and we want to show this to the world."
The band's front man and guitarist Suleman Qardash repeatedly screams "I wanna run away" while drummer, Mujtaba Habibi ramps up the pace of their hit song of the same title.
The success of "Kabul Dreams," while still modest compared with popular Western bands, is paving the way for a growing local rock scene.
Editor:Liu Fang |Source: CCTV.com