Watch Video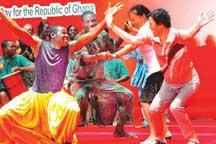 Play Video
As the Black Stars celebrate their history-making appearance in the 2010 FIFA World Cup, the Republic of Ghana is celebrating its National Pavilion Day on Thursday in Shanghai.
The West African country is taking on the theme of "Garden Cities" in an all-round presentation of the architectures, handicrafts, and arts of Ghana.
On the Expo stage, Ghanaian artists are presenting a contemplation on man and nature through the country's rich array of music and dance.
You'll find the Ghana Pavilion inside the Joint African Pavilion of Expo Park. Upon entering, visitors will see the the country's iconic architecture - the Gate of Freedom and Justice on Accra Square. Black is an auspicious color for Ghanaians. It's a tough and mysterious color, one that symbolizes hope, expectations, power and birth.
As the only African football team to made it into the quarter-finals at this year's World Cup in South Africa, the Pavilion of Ghana is attracting visitors with its statues of players Michael Essien and Dominic Adiyiah.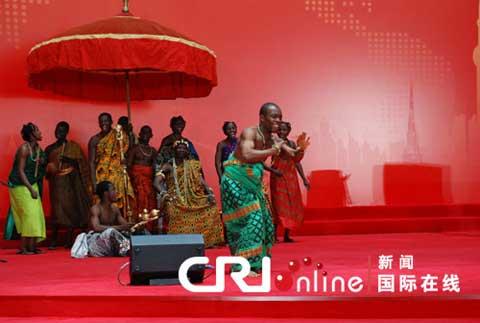 The Republic of Ghana is celebrating its National Pavilion Day on Thursday.
Jones, staff member of Ghana Pavilion, said, "The team played really well."
And what did these footballers probably get when they returned home? In Africa, a person's most admired virtue or exalted tribal status is often represented by one gift - a stool. It's the local's belief that a stool represents freedom, wealth and happiness.
Commissioner general of Ghana Pavilion, said, "This stool is made on the 50th anniversary of Ghana's independence."
Masks, wood sculptures, musical instruments, and handcrafted carvings with distinct West African style are greeting visitors from all over the world.
Visitors to the pavilion will also be treated to a cup of the country's own brandy, one made with cocoa. Ghana is the second largest producer of cocoa in the world. It's an even more important cash crop than gold.
The wine is special, strong, and a bit spicy, a taste that very much reminds me of the country of Ghana.