Watch Video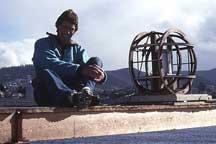 Play Video
The magnetic South Pole is considered a navigational certainty, but its location is actually moving all the time. Australian explorers have undertaken many journeys to the neighboring Antarctic, and now a new exhibition in Sydney charts the country's relationship with this intriguing landmark.
Ever since explorer Sir Douglas Mawson led the first Australian Antarctic Expedition a century ago, the nation has had close links with the South Pole.
A fluxgate magnetometer is one of the more unusual devices on show.
It can be used to measure the strength of the earth's magnetic field.
Geomagnetist Dr Charlie Barton used the instrument himself during voyages in 2000, and was eventually able to locate the Magnetic South Pole beneath the ship he was on.
Dr. Charlie Barton, geomagnetist, said, "We made measurements over several days as we approached the pole, and to begin with it was moving much faster than the ship, and it looked yet again as though we wouldn't get those perfect conditions. And then by chance on the final day of the measurements it virtually stopped still for about 24 hours which is very unusual and it enabled us to make the very accurate measurements we achieved."
There were also gadgets and records that testify to the hard conditions of the exploration a century ago. There's Douglas Mawson's diary and a sleeping bag he shared with fellow explorers Professor Edgeworth David and Alistair Mackay.
Old navigation tools and old cameras are also in the exhibition.
Dr. Barton also says the South Pole has already shifted more than 1,100 kilometers northeast in the 100 years since Mawson's time.
The exhibition "Quest for the South Magnetic Pole" is showing at the Australian National Maritime Museum.
Editor:Liu Fang |Source: CCTV.com