Watch Video
Play Video
Jean Paul Gaultier, who is famous for giving Madonna her pointy bra, expanded his exploration of the concept of innerwear-as-outerwear for fall-winter 2010-11. His haute couture collection shown in Paris on Wednesday features an anatomical array of lean skirt suits and bustiers covered with rhinestone-encrusted femurs, tibias, and ribs.
Models in jewel-toned turbans with a stiff sculpted loop of fabric standing at attention sported long, kite-shaped gowns with pointed square shoulders, sometimes sprinkled with sequins, or leather trench coats whose fine pleats fanned out into full skirts.
Even the bride, who traditionally closes Paris' made-to-measure couture collections, was wearing a trench coat - a Gaultier staple - in bone white microfiber with a long tulle veil. And because this was a Gaultier show - where a stiff dose of theatricality is de rigueur - the bride was playing her own wedding march on a matching white violin.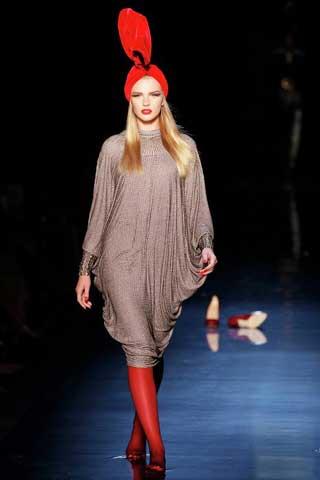 Jean Paul Gaultier's haute couture collection shown in
Paris on Wednesday.
Also on Wednesday at the Paris Fashion Week, Lebanese designer Elie Saab showcased his autumn/winter 2010 collection, which also took some inspiration from the theatre.
The dresses presented followed in the steps of past collections, with lavish evening wear designed with the red carpet in mind.
The gowns paraded on the catwalk were fit for goddesses, embellished with thousands upon thousands of beads, crystals, Ostrich feathers and wings that floated behind the models as they walked.
The ball-dresses were made from chiffon, and came in fiery reds, rich ochres, mossy greens, champagne tones and chestnut browns.
Fishtail gowns with embroidered skirts and ruffled chiffon bodices were adorned with sequins that shimmered.
Saab's veiled bride glided down the catwalk, a vision in ash grey silk tulle and sequins with shimmering asymmetrical layers.