Watch Video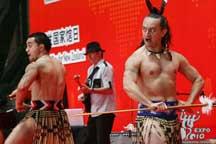 Play Video
Legend has it that the god Tane separated his parents, the Sky and the Earth, to create the world on which we live.
This Maori creation story is now brought to the Shanghai World Expo courtesy of the New Zealand pavilion.
Let's find out more about this South-western Pacific island country as it celebrates its National Pavilion Day on Friday.
Aboriginal artists illustrated the traditions and history of Maori by their indigenous instrument playing, and singing and dancing. They welcome people from around the world to enter the "land of the long white cloud."
The haka - an action chant, often described as a "war dance", grabs the most attention. As a chant with hand gestures and foot stamping, it was originally performed by warriors before a battle, proclaiming their strength and prowess and abusing the opposition. Now regularly performed by New Zealand rugby teams before a game begins.
A 1.8 ton pounamu boulder, known as New Zealand jade, stands for the heart of the country. The largest green jade in the world was transported to Shanghai specially for the Expo and placed at the entrance of the pavilion to bring good luck to visitors.
Under the theme "Cities of Nature: Living Between Land and Sky," the 2000-square-meter wedge-shaped pavilion extends the Maori legend into a three act play - the welcoming space, the interior, and the roof garden.
Visitors are taken through a day in the life of a composite New Zealand city that starts from the sea, goes through the suburbs, then the city center and out toward the mountains. Various themes overlap - the progression of the day from dawn to dusk, from children to adults, New Zealand's majestic scenery, or New Zealanders as multi-cultural, vibrant and creative.
While on the roof garden, visitors can find plants native to New Zealand, such as ponga and pohutukawa trees, or walk along a thermal lake, common in the Rotorua region of New Zealand.
New Zealand is one of the most recently settled major landmasses. The first known settlers were eastern Polynesians who, according to most researchers, arrived by canoe in about AD 1250 to 1300. Over the following centuries these settlers developed into a distinct culture now known as Maori. The traditional arts of kapa haka, which literally means song and dance, carving and weaving, are now widely practiced.
The New Zealand cities consistently rank among the world's most liveable, and the nation is top on the 2010 list of best tourist destinations.
Editor:Zhang Pengfei |Source: CNTV.CN