Watch Video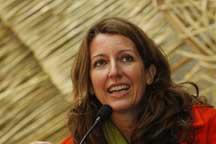 Play Video
Visitors to the Spain Pavilion at the Shanghai World Expo might be impressed by the giant wicker covering on the pavilion's walls and its basket-like design. But little do they know that all the patterns of the wicker cover are hand woven by artists from east China's Shandong Province.
The wicker cover of the Spain Pavilion consists of 85-hundred patterns of rattan basketwork. All are created by the dexterous hands of Shandong handicrafters by using different colors of wicker.
A Spanish team traveled the length and width of China to locate artists who were able to turn the ideas on the blueprint into reality. Finally, it was the skills of handicraftsmen in the Bo'xing County of Shandong Province that impressed the Spanish.
It takes great effort to make the wicker cover of the Spain Pavilion look so fine. Apart from the weaving accuracy required for each of the 85-hundred rattan basketworks, the nuanced dyeing techniques of the villager artists were also put to the test.
Sun Jianguang, villager artist, said, "We sorted out the rattans of different colors by controlling the time they are steamed. Five hours of steaming can make the rattans look moderately brown, eight hours of steaming, and they'll change into a kind of deep brown."
And all the efforts are not made in vain. The Spain Pavilion has welcomed countless visitors for its distinguished design, and the master skills of Shandong artists are highly recognized and well received.
And thanks to the Shanghai Expo, villagers in the Bo'xing County of Shandong Province have begun to receive international orders for rattan works, helping the local economy to prosper.
Editor:Liu Fang |Source: CCTV.com