Watch Video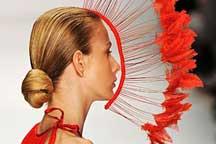 Play Video
A young Berlin designer label called "Mongrels in Common" has been tipped as one of the hottest shows of this year's Berlin Fashion Week. But with a total of 40 labels showing, there were plenty of other memorable moments, all the way to the final day.
Polish designer Dawid Tomaszewski was a newcomer at Berlin Fashion Week who pleasantly surprised most of the guests as his designs were a perfect mix of haute couture and ready-to-wear evening gowns. His nifty cuts, fancy fabrics and remarkable patterns were an absolute eye-catcher to the buyers and admirers sitting in the audience.
Tomaszewski studied at London College of Fashion under Vivienne Westwood and Berlin art school Akademie der Kuenste. After his graduation, Tomaszewski worked on several projects, designing Haute Couture fashion. He also worked for Reebok in Boston. At the end of last year he decided to launch his own label. In the beginning of this year, Tomaszewski received the Young Fashion Designer Award by the jury of the Premium Fashion Fair in Berlin.
Another young designer who presented his Spring/Summer 2011 collection at the Fashion Week is Berlin based designer Kilian Kerner. Accompanied by live music, the outfits showed on the catwalk stayed true to the motto: "Fly to the moon and stay here."
Kerner never went to an art school or studied fashion at a university. This might be one reason why he is received as one of Berlin's most creative artists. Initially, he dreamed of becoming an actor, his success in the world of fashion seems to be proof enough that he has made the right choice by becoming a designer instead.
The new Mongrels in Common show at this year's Berlin Fashion Week did not fail to impress the guests with its understated but elegant and love for detail chic: nude colors mixed with wild patterns and breakneck shoes. Designers Livia Ximinez-Carrillo and Christine Pluess call themselves mongrels, they have come from multinational background and met at Berlin's renowned ESMOD school of fashion. They made their debut at the "Moet et Chandon" Fashion Award 2006, showing Spring/Summer 2007 containing menswear and womenswear.
With their first-selling collection, they won at premium exhibitions the "Premium Young Designers Award" for best men's fall/winter. The Mongrels have only been on the market for four years, and their success is owed to hard work, discipline and love for what they do.
Editor:Liu Fang |Source: CCTV.com