Watch Video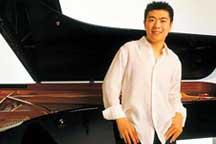 Play Video
As an international super-star, Chinese classical pianist Lang Lang just keeps on rising. Today, we'll hear him talk about his upcoming concert in New York's Central Park with the New York Philharmonic and the Shanghai Symphony Orchestra.
China's flamboyant pianist Lang Lang said he hopes New York's Central Park audience will feel "joy" when he performs on Tuesday, alongside the Shanghai Symphony Orchestra and the New York Philharmonic.
Lang Lang said, "I live in New York City and to play Gershwin Rhapsody in Blue in the heart of New York in the Central Park with the Chinese Orchestra Shanghai Symphony and that really shows that music is so powerful and without boundaries."
The 28-year-old spiky-haired pianist has captivated audiences around the world by combining his classical repertoire and pop-culture showmanship.
Lang Lang lives in New York, but he said he still kept close ties to his native country and returns often.
Lang said, "The Central Park concert is very unique for every musician, whether classical musician or pop musicians. It's a great honor to be here as a World Expo ambassador to play with Shanghai Symphony, New York Philharmonic, Mr. Long Yu and to make music together in this enormous, prestigious and beautiful place and hopefully we will send this very welcoming message to the world to come to Shanghai, to come to China for the World Expo and to have a party in Shanghai next time."
Lang Lang's global profile has risen rapidly in recent years as he played sold-out recitals around the world and his album sales ranked him as a best-selling classical musician. His most recent album "Live in Vienna" will be released on August 24th.
Editor:Liu Fang |Source: CCTV.com