Watch Video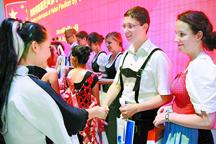 Play Video
The Choir of Sing-Academy Graz from Austria arrived at the Hebei Pavilion at the World Expo for a performance Wednesday. The choir consists of twenty teenagers ages ten to eighteen.
First, the Austrian teenagers were treated to a stunning show of acrobatics presented by North China's Hebei Province.
In turn, the Austrian choir took the stage and mesmerized spectators with their pure and flowing rendition of traditional Austrian songs.
Paying tribute to their hosts, the young singers performed the popular Chinese tune "Moon Represents My Heart" in Chinese. And naturally, they got an enthusiastic response from the audience.
After the show, the Austrian boys and girls exchanged gifts with their Chinese peers, and posed for photos.
Editor:Liu Fang |Source: CCTV.com