Watch Video
Play Video
The 8th national youth dancesport competition has come to a close, with the future of dancesport in China looking as bright as it ever has.
The final day of the three-day 8th National Youth Dancesport championship got underway on Wednesday night in Shenzhen, Guangzhou Province. Finals of eight competitions, including the professional and amateur groups, were held.
China is a hot bed for dancesport in Asia, with more than three million amateur dancers now taking up the sport in a competitive manner.
And in the finals, dancers in the children, teenage and youth amateur groups again showed the country's passion and devotion to dancesport.
But the most intensive action came later on as the competitive groups took the stage.
Through competitions involving professional Latin and modern dance disciplines, China's youth national dancesport team selected new members to join the team.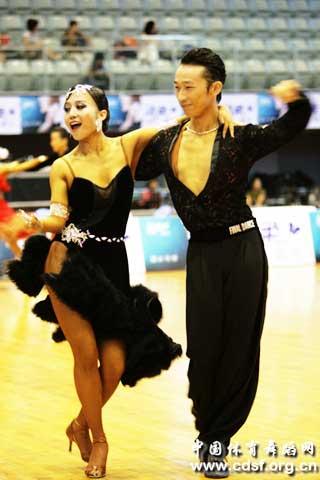 Contestants at the 8th national youth dancesport
competition
In the modern dance competition, the top 12 pairs were recruited to the national youth team. Local favorites Qiu Yuming and Xu Wan scored the highest points to lead the final.