Watch Video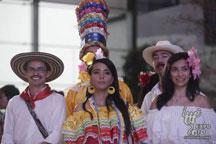 Play Video
When you think of Colombia, what impression is left on your mind? Is it Colombian coffee? Emeralds? Or the passionate South American music?
Well, the Colombia Pavilion is celebrating its National Pavilion Day at the 2010 Shanghai World Expo on Friday. And a visit there might prove that the country has even more to offer.
The Colombia Pavilion, located in Zone C of Expo Park, embraces the theme of "Colombia is Passion, the City is Activity."
Traditions and customs, natural resources and urban development are interpreted in three perspectives of the past, present, and future. The country opens itself up through multimedia videos, interactive touch screens, and models.
The Colombia Pavilion is highlighted by its exhibition of the Amazon area where visitors will find characteristic rain forest scenery.
Travelling in the Andean Region of Colombia, you'll be no stranger to the cable ride. Here, the cable car is used a lot not only for sightseeing, but also as an important means for commuters living high up in mountains to go to and from work.
As the Colombia Pavilion suggests, don't miss the Emeralds Museum once you're in Colombia. It is the one and only emeralds museum in the world. The country of Colombia boasts around 95 percent of emeralds worldwide. The Colombian emeralds are internationally known for their purity, size, flexibility, and color. Even Hollywood star Angelina Jolie is a big fan of Colombian emeralds.
Emerald is the symbol and pride of Colombia. The Colombians love to tell visitors that when they take away a piece of emerald, they also take a tiny piece of the heart of Colombia.
Perhaps more famous than the emeralds, another staple production of the country is coffee. There are more than two-million Colombians involved in the coffee trade. 588 cities in Colombia own a coffee plantation. And the coffee industry accounts for 15 percent of all agricultural output in Colombia.
Colombia is also known as a country of fresh flowers. The 40-thousand flowers that decorated the streets of Stockholm on the royal wedding day of Sweden's Princess Victoria on June the 19th were all delivered directly from Colombia. The 10-thousand flowers adorning Moscow when the city celebrated the 65th anniversary of the end of Russia's Great Patriotic War also flew in from Colombia.
Don't tell me you've never heard of Colombian music, 'coz the theme song of the FIFA World Cup, which has just concluded, was spread all around the world. Behind the microphone of the hit is Colombian singer Shakira, who has been invited to perform for the last two World Cups.
In order to better introduce Colombian music to people the world over, the Colombia Pavilion also put on a gig performed by a Colombian band called Bomba Estereo. Their music style of electro-tropical set the audience on fire.
Related stories
Editor:Zhang Pengfei |Source: CNTV.CN