Watch Video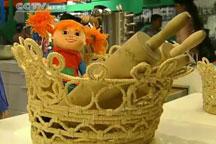 Play Video
You know, the kids in your group might really enjoy seeing something like that in person for the first time. In fact, there are so many family activities at the Expo, and now that the summer school holiday is here, we thought we should take this chance to let you know a few of the special treats on offer for kids.
When you walk into the 6-thousand-square-meter Russian pavilion, you are entering a surreal world of fairy tales. There's giant artificial plants with their vines stretching all over the place. And gigantic replicas of strawberries, mushrooms and sunflowers to entertain curious kids.
The Russian pavilion also features remakes of advanced space shuttles and airships, adding a sense of the past and the future.
In Australia Pavilion, activities for children take center stage. A big screen video showcases three Australian children, all with different skin colors. They guide visitors on an adventure into Australia's past and bright future.
Finally, in the Switzerland Pavilion, Pippi Longstocking dolls welcome visitors. Pippi Longstocking is the most famous fictional character to come out of a Swiss children's book. She was created by the author Astrid Lindgren. The clever girl in the fairytale can always find a way to get herself out of trouble. The Switzerland Pavilion hopes Pippi Longstocking serves as a good example of an always-eager-to-learn student for children around the world.
Editor:Zhang Pengfei |Source: CNTV.CN