Watch Video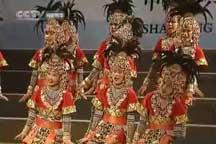 Play Video
The curtain was raised on the 6th World Choir Games on Thursday in Shaoxing City of east China's Zhejiang Province. Choirs from around the world are there on a double mission: to showcase their singing prowess, and to meet new friends.
According to organizers, over 8-thousand contestants from more than 60 countries including the United States, Germany, and Russia have registered for the Games.
Among the foreign contestants, Russia boasts the largest number of participating choirs.
Altogether, they have sent 31 Russian choirs to join the Games. The Nazhny Novgorod State University Choir is celebrating its 60th birthday during the grueling competition in Shaoxing. Group members say this is the perfect occasion to meet their counterparts from around the world.
Russian Contestant, said, "We hope we can achieve a good result in the competition. That would be a perfect birthday gift for the group."
A children's choir from the Philippines convinced spectators as well as the panel of judges with their innocent voice and seamless teamwork.
And their splendid costumes decorated with traditional patterns of the Philippine folk culture added a touch of glamour to their performance.
The World Choir Games is a major international cultural event organized and promoted by Interkulture, a foundation based in Germany. The event is crowned as "The Olympics" of choirs. Since the Games were inaugurated in Austria in 2000, it has been held every two years and has become the most dynamic and influential choir event around the world.
Winners of the World Choir Games will be decided on July the 26th.
Editor:Zhang Pengfei |Source: CNTV.CN