Watch Video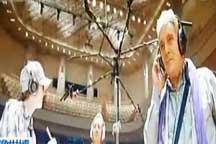 Play Video
Beijing, the Chinese capital, is a city with rich history and culture, and a place with multifaceted sights and sounds.
In the Beijing Pavilion at the Shanghai World Expo, a five-minute film "Sounds of Beijing", shot through a western perspective, tells an acoustic story of a day in Beijing.
What is the sound of Beijing? Australian sound recorder Steve Boggis find out for you.
A working partner of director Zhang Yimou, Boggis is a China savvy guy, recording life in Beijing through its famous landmarks.
Beijing is heard through the hustle and bustle at the train station and airport. The advanced transportation system gives a look into the city's scientific, and economic importance.
In the ancient courtyards and alleyways, Beijing becomes quieter, yet full of life.
The city's ancient operatic heritage is being carried forward in the gongs and drums, which are essential to a Peking opera performance.
Traveling on the subway, the city's commuters embrace another workday. It's the same for those who work in the creative industry, ready to put their imaginations onto canvas.
In the blend of home and exotic culture, Beijing is just as vibrant as any other metropolis in the world, attracting large numbers of tourists from China and abroad.
The fun continues in the library, through the pages. The serene yet precise spirts found in a library or laboratory, and the sweaty efforts Chinese athletes put into their training all testifies to man's quest for perfection and new heights.
Xu Yuwei, official of Beijing Pavilion, said, "The film is shot through a western perspective, which is more touching and convincing. The sounds have presented Beijing as a city both ancient and modern, serene and fast growing. "
And when night falls, the film brings the audience back to 2008, the very year China hosted its first Olympic Games. The ecstatic spirit spreads to everyone in attendance. As the first developing country to host this international event, Beijing has turned a page in Olympic history.
The film, as its concluding choir sings, sends out the very message, that the city is to provide a better life for everyone to enjoy.
Editor:Liu Fang |Source: CCTV.com