Watch Video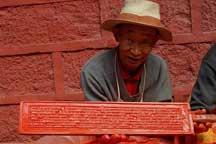 Play Video
The Garze Tibetan Autonomous Prefecture in Sichuan Province is keen on conserving its ancient cultural legacy. Apart from the Mani Stone Wall that has a history of hundreds of years, the region's Dege Scripture Printing House, which is credited as "The encyclopedia of Tibetan culture," is also among the best-protected sites in Garze.
Although endowed with an appealing landscape, the Dege Scripture Printing House is secluded from the outside by high mountains, and is the largest traditional press in the Tibetan area of China. It houses an estimated 70 percent of Tibetan literary heritage. The subjects of its collection encompasses a dozen categories, including Buddhist classics, medicine, mathematics, religion, and literature.
Special woodblocks and paper are made for printing Buddhist scriptures. An expert explains that all the scriptures are hand-made, even today. Text engraved deep in the woodblocks is done in a wonderful calligraphy, and is suitable for repetitious printing thanks to the special carving skills. And paper for printing undergoes several processing phases like washing, steaming, and polishing before use, in an effort to make them durable and strong enough to resist damage from climate and pests.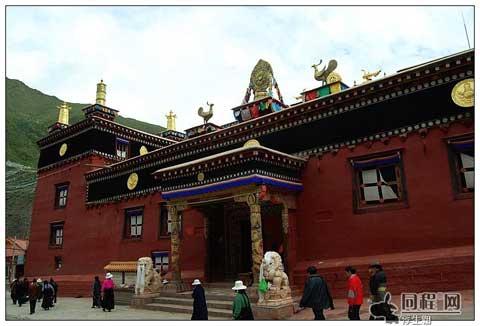 Dege Scripture Printing House
Dege County, where the Dege Scripture Printing House is located, is home to the Dege Clan. Historically, Dege was one of the three ancient centers of Tibetan culture, together with Lhasa and the city of Xiahe in Gansu.
One of the major parts of Tibetan culture is the epic of Gesar. It is a lengthy folk tale based on the religious beliefs of the Tibetans. It became popular in ballads among many ethnic Tibetans and Mongolians.
62-year old A Ni began studying how to sing Gesar ballads when he was 16. The artist has been working tirelessly over the years to teach the younger generation to perform excerpts of the Gesar legend. Influenced by A Ni, almost all the children living near his home are able to sing a song or two.
The Gesar ballads are recognized as one of the intangible cultural heritages of the region. And the Dege Scripture Printing House made it onto the list of the country's key cultural protection sites in 1996.
Next up, the Dege Scripture Printing House is applying to become a UNESCO World Cultural Heritage Site.