Watch Video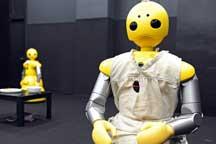 Play Video
When talking about robots, images of powerful Transformers or the lovable Wall.E might come to your mind. Now, setting fictional characters aside, a robot is an artificially intelligent machine that is able to perform tasks on its own.
But do you know when the first robot in the world came into being? Or how robots have evolved over the years? Let's find out together.
The notion of "Robot" appeared in the 20th century when Czech playwright Karel Capek raised the word in his play called "Rossum's Universal Robots." It reflected the fascination and aspiration of human beings for a human-like creation that would assist men.
The first truly modern robot, digitally operated and programmable, was invented by George Devol and Joseph Engelberger in 1958. The industrial robot was put into use right after its birth, and was used for highly repetitious jobs.
Over the past decades, robots have undergone three phases of development.
During the first stage of evolvement, robots were maneuvered by men to mimic human movements. The process would then be programmed into the robot's mechanism, making it possible for the machine to repeat the moves according to instructions. At that time, robots could not sense light and make contact with external objects.
Robots of the second generation were bestowed with the ability to sense the surrounding environment. Stimuli sensor-armed robots are able to adjust themselves to the working environment, making judgments according to the information they receive.
The third generation robots boasted artificial intelligence. They are capable of performing various complex acts with greater accuracy and reliability than humans. Some of the A.I. robots invented in Japan even have an IQ of an average four or five year old tot.
Nowadays, robots are in widespread use. They can be found mowing lawns, cleaning drains, building cars, and even exploring and investigating other planets.
Editor:Liu Fang |Source: CCTV.com