Watch Video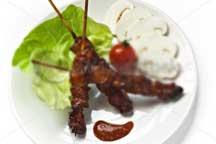 Play Video
Nowadays, people often talk about how the world is getting flat, especially when it comes to international economics. But in the kitchen, people have been enjoying tastes from around the world since the first European ships returned with Indian spices.
Well, in spite of all that history, a new trend has developed in Los Angeles. The usual burgers and steaks on the bistro grill are getting their flavor from places like Malaysia, Thailand, Indonesia and Vietnam. Let's see what's cookin'.
In summer time in the U.S. the barbeque season is in full swing. Weekend chefs and hungry guests are looking for something new to put on the grill.
These days, the latest trend at American barbeques has become Asian grilling.
Making use of marinades and glazes, fish sauce and Philippine Tamarind powder, Asian grilling offers a variety of new flavors.
Meats, fish and poultry are typically marinated in sauces overnight before being set over the red hot coals.
A whole range of different grilling styles have come from Korea, Thailand, Vietnam, Malaysia, Singapore and Indonesia.
Mohan Ismail, executive chef of Rocksugar Pan Asian Kitchen, said, "Pan Asian food is a combination of all the different foods from South East Asia. For example, Singapore, Malaysia, Indonesia and Thailand and basically the differences would be the heat level, the acid level for example and how each dish is being cooked, but all in all basically they all use the same ingredients."
Ingredients such as pepper, soy sauce, ginger, garlic, and hot peppers are common in Asian grilling.
Another very common ingredient is coconut milk used specifically to marinade chicken.
Another secret to great tasting Asian grilling is the heat of the coals. They often use imported coals from Japan called bincho.
Bincho coals burn at a lower temperature than ordinary charcoal, but for a longer period of time.
They don't release smoke or other unpleasant flavors, which could influence the taste of the grilled dishes.
According to a survey conducted by the National Restaurant Association of almost 2,000 professional chefs, ethnic cuisine from Southeast Asian is in the top five.
Editor:Liu Fang |Source: CCTV.com