Watch Video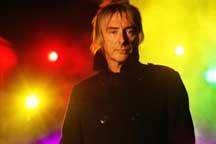 Play Video
Something old and something new features on the short list for this year's Mercury Prize. Now let's take a closer look at who is in the running for the UK's big music award.
Veteran performer Paul Weller was nominated for his album "Wake Up The Nation". It's been 16 years since his last nomination. And fresh act "XX" is also on the hot list with their self-titled release.
Also nominated is former Mercury winner Dizzee Rascal, for "Tongue N' Cheek". He took the title before for 2003's "Boy In Da Corner."
Dizzee Rascal, fmr. Mercury winner, said, "When I won the Mercury it gave me a lot of recognition around the world that I don't know how I would have got myself at that point and it still gives me credibility up to this day."
Former Mercury winner Dizzee Rascal was nominated for "Tongue N' Cheek".
Singer/songwriters Laura Marling and Corinne Bailey Rae both have a chance this year. Jazz is represented by the Kit Downes Trio. But a long list of bands dominated the nom's including I Am Kloot, Villagers, Wild Beasts, Biffy Clyro, Mumford And Sons, and Foals.
Edwin Congreave, The Foals, said, "I think the winner of the Mercury Prize is obviously a big deal but is one of those prizes that the nominations are strong enough in their own right that people can go out and listen to those albums and enjoy themselves so if we don't win, it's really not a big deal."
The mercury Award is an annual prise awarded to the best album from the United Kingdom or Ireland. This year's winner will be unveiled in September during a ceremony at the Grosvenor Park Hotel in London.
Related stories