Watch Video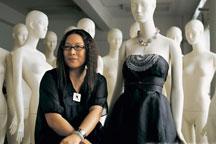 Play Video
In the fashion field, designer Liang Zi is a maverick. She uses gambiered Guangdong silk as her main material, but the aura of luxury that her garments exude make Liang Zi a must-have label.
Today, we introduce designer Liang Zi, whose naturally beautiful clothes cast a spell over fashion fans even at first glance.
On a Zen-like stage, with ethereal music in the background, the models looked serene and peaceful. That's the feeling Liang Zi wants to pass on. Her clothes are in accordance with this mood. The skirts exude a controlled dignity, the same mood can be felt through the floating pants. Her gorgeous clothes help to calm troubled minds, and immerse the wearer into the serene mood which is the designer's spiritual home.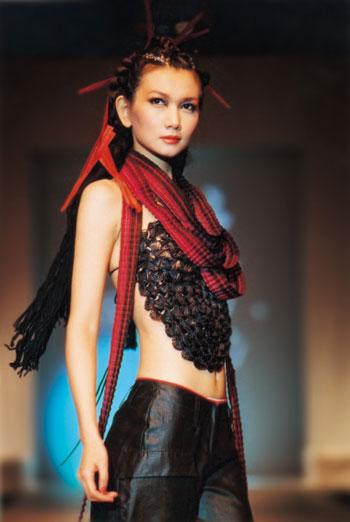 Liang Zi's designer
The show, a must-see for many at Beijing International Fashion Week, was titled "Kong" or "nothing". In Zen meditation, when one obtains an empty state of mind, one can see things for what they truly are. Liang Zi promotes a peaceful mind in face of the hectic modern world. And her clothes perfectly communicate her ideas.
Liang Zi said, "My interpretation of the theme "Kong", or "nothing" is a kind of a spiritual status. Your heart is very strong, you can face anything, that kind of status. Everything in life is wonderful, either frustrations, or the whole life circle, you are broad-minded and at peace in face of anything."
Liang Zi has shown at Beijing International Fashion Week since 2001. No matter what the themes are, the core of her shows is always "ode to nature", and a harmonious attitude towards nature, society and the inner self.
Gambiered Guangdong silk is an eco-friendly material, and its production process does not harm the environment.
Liang Zi's show not only graces Beijing Fashion Week, but also turns heads at the capital of fashion - Paris - and Seoul in South Korea.
Her company, called "Tian Yi", based in Guangzhou, receives orders from many celebrities. Her most distinguished customers are the Swedish King and Queen, during their visit to China to celebrate a historical voyage of the ship Gothenberg to ancient China. The Guangdong provincial government presented Liang Zi's clothes as gifts to the royal guests. But Liang Zi insists her customers all have something in common.
Liang Zi said, "My customer group is unique. They are not the masses, they are a relatively small group. They may be Chinese or foreign, they like oriental culture, nature, and have a healthy attitude to life. These are the preconditions."