Watch Video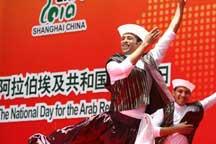 Play Video
On Friday, the Arab Republic of Egypt lifts its veil to visitors as it celebrates its National Pavilion Day at the Shanghai World Expo.
As a transcontinental country with over 7,000 years of history, Egypt is famous for its ancient civilization and some of the world's most famous monuments.
As visitors enter the Egypt Pavilion, they are immediately impressed by the bold color scheme. On the grand black ceiling, a white ribbon twists and extends, symbolizing the Nile River running through Egypt.
6,650 kilometers long, the Nile River is the longest river in Africa. In a country where 95 percent of the landscape is covered by desert, the Nile River means everything to Egypt. Today, an estimated 78 million Egyptians live near the banks of the Nile River. Still after thousands of years, it irrigates the land, nurtures the people, and has born witness to the rise and fall of empires.
Among the highlights at the Egypt Pavilion are its eight national treasures from the age of the Pharaohs, each showcases the incredible craftsmanship of ancient Egyptians and the resplendence of the age of antiquity. Responsible for the exhibition is the world-renowned Egyptian Museum.
Tour Guide, Egypt Pavilion, said, "The Egyptian Museum in Cairo is home to some 300-thousand national treasures and ancient relics that can be dated back to 3000 years ago. We rarely send these pieces out of Egypt. We transported the best ones for China this time because China is also famous for its ancient civilization."
Among the eight relics of the Pharaohs, the most exquisite is the gold mask of Sheshonq II. The mask, mimicking the facial expression of the emperor, is so delicately made that even the contour of the ear can be clearly seen.
Also on display is the gold and celestite necklace of the Queen Ahhotep I of the 17th Dynasty over 3500 years ago, the oldest one among all the exhibits.
This is the statue of Amenhotep IV, a Pharaoh of the 18th dynasty who ruled the country for 17 years and died in 1336 BC. He is especially noted for abandoning traditional Egyptian polytheism and introducing warship centered on Aten, God of the Sun. This move launched one of the country's most glamorous periods of art creation.
One day in Egypt Pavilion is far less than enough to acquaint yourself with the country. Through 7000 years of time, Greek, Roman and Ottoman Empires all left their mark here, resulting in a uniquely blended civilization. Countless cultural heritages are left for the children of the Nile River. Today, tourism is one of the main engines driving Egypt's economy.
Editor:Zhang Pengfei |Source: CNTV.CN