Watch Video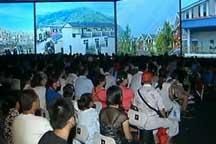 Play Video
In the China Pavilion at the World Expo an eight-minute film especially made for the big event is being played for visitors. It's one of the most densely packed eight minutes you could spend at the Expo. So, let's get a preview.
Four giant screens await the audience, three in front of them, and an omnimax one above their heads, suggesting that the journey they are about to embark on is beyond imagination.
The video is produced by avaunt guard Chinese director Lu Chuan and edited by the post-producer of "Avatar."
As its name "Journey" suggests, the short film showcases the evolution of the country over the past thirty years from a very unique perspective. Each of the four characters has their symbolic meanings. The father who has stayed in countryside for his entire life stands for tradition. The son who left his hometown to vie for a position in the city reflects the trend toward urbanization. The grandchild, born and raised in city, is full of curiosity about family history and the outside world, reflecting China's globalization. And the new born baby, with an exciting unknown world unveiling in front of him, symbolizes everyone's hope for a bright future.
As the story proceeds, various milestone moments are artfully connected. Joyous occasions like the Olympics and tearful scenes of the Wenchuan Earthquake are all reproduced on screen. Using the powerful language of cinema, the director conveys his message to the bottom of everyone's heart. XXX, CCTV.
Editor:Zhang Pengfei |Source: CNTV.CN