Watch Video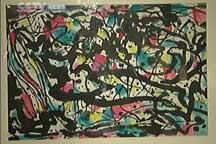 Play Video
You're watching Culture Express on CCTV News, and welcome back Wu Guanzhong, who fused Western modernism and traditional Chinese painting, is remembered in a current exhibition at the National Art Museum of China.
One of the country's most forward-looking and admired artists, Wu Guanzhong's sad departure on June 25th of this year has triggered a retrospective look into his artistic vision and achievements.
On June 25th, Wu Guanzhong, at the age of 91, bid his last farewell.
A memorial booth is set up just outside the National Art Museum of China, where Wu attended his donation exhibition just a year before his death.
This is the style Wu has been much extolled for. The seemingly casual lines and color blotches are executed with careful composition and withstand timeless scrutiny.
It was with these tools -- the brushes, a palette and pigments -- that Wu boldly crossed the boundaries between oil and ink wash painting. The naturalism of the early landscape gave way in the 1980s to graphic, nearly abstract works that incorporated swirling lines and bursts of bright colors.
In the eyes of Zhao Jiancheng, from China Arts Research Institute, this is the very style that made Wu a pioneer in the trade.
Zhao Jiancheng, Director of China Arts Research Institute, said, "Wu's painting is an impact for Chinese fine arts in every possible way. His thinking is forward and not refined in a traditional sense. He's a pioneer, a top level person in the history of Chinese fine arts."
Harmonizing Chinese aesthetic conception with oil paintings led Wu to be expelled from the Central Academy of Fine Arts, which maintained the Soviet-inspired social realism.
This unrelenting soldier sees artistic innovation as his responsibility and individuality as the soul of a vigorous artistic career.
In a CCTV interview in 2003, Wu talked about his insistence and dedication to art.
Wu Guanzhong, Painter, said, "I usually start painting right after breakfast. I don't eat, drink or even go to the toilet during the whole day... just paint. In the world of art, I forget all the physical necessities."
While forging his own artistic temperament, Wu is also calling out to society, stressing that art's spirituality and aesthetics must be higher than techniques.
In spirit, this fearless fighter admires the number one subject of his own painting. "Wild Grass", which places the head of Chinese writer and critic Lu Xun amid grey and black concrete, is one of Wu's best known pieces.
Wu Guanzhong, Painter, said, "I've been telling the truth my whole life. I'm now in my last years in the world, so I have to follow my heart and pour it out. I think I can die in peace if I keep saying the truth."
The exhibition has been drawing crowds since opening.
Visitor, said, "I find his paintings close to life. The subject matter is realistic and not based on fantasies. "
Visitor, said, "Wu Guanzhong has blended Chinese and Western painting technique into his works, which helps them cater to modern tastes."
Fan Di'An, Director of National Art Museum of China, said, "In oils and watercolors, Wu Guanzhong has displayed a mastery of contemporary times and art, an integration of his own emotions toward life and artistic exploration."
The sixty two pieces on display come from museum's own collection. The exhibition also includes a selection of archives to provide a comprehensive view of the leading Chinese painter, art educator, and essayist whose paintings represent the changing face of Chinese art for most of the 20th century.
Related stories
Editor:Zhang Pengfei |Source: CNTV.CN