Watch Video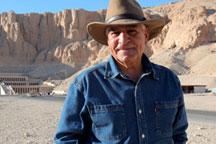 Play Video
He's controversial, demanding and has a biting tongue. No, we're not talking about celebrity chef Gordon Ramsay, Simon Cowell, or Donald Trump, but Dr. Zahi Hawass. He's an Egyptian archaeologist, Egyptologist, and the current Secretary General of the Egyptian Supreme Council of Antiquities. Dr. Hawass also has his own TV show called "Chasing Mummies" on The History Channel in the United States.
Cameras accompanied Hawass and a team of American archaeologists traveling to Cairo, Egypt where they find, for example, Cleopatra's pylon from the Bay of Alexandria.
Hawass says the idea for the show was appealing to bring attention to his field.
Dr. Zahi Hawass, Archaeologist & Egyptologist, said, "When History Channel approached me to do that, I was really... I agreed because I want people to be in love more with archeology."
And while it's interesting to watch the team on the job there's no shortage of drama on "Chasing Mummies." Hawass has a short fuse and demands perfection from his assistants.
"I'm teaching them. I yell at them sometimes but yelling it doesn't mean that I'm abusing them at all. Actually, all of them love me because I teach them. They learn from me and I learn from them." Dr. Zahi Hawass said.
"Chasing Mummies" airs on Wednesdays on the History Channel.
Editor:Zheng Limin |Source: CNTV.cn