Watch Video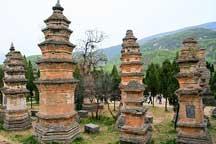 Play Video
Songshan Mountain, one of the "five sacred mountains" in China, is fighting an uphill battle to get entered on the World Cultural Heritage List. Cultural differences and a change in UNESCO's policy have proved to be the obstacles in the way ahead.
Worldwide, there are two projects applying for the cultural and natural heritage list, six for World Natural Heritage and as many as 24 applying for natural heritage status this year, including Songshan Mountain Historical Architecture Complex.
The Songshan Mountain complex is composed of traditional Chinese constructions, including the renowned Shaolin Temple.
"The Center of Heaven and Earth" is the central cultural concept in Songshan's application for World Natural Heritage status. Songshan Mountain houses ancient architectures from different ages over the past 2,000 years. It was regarded as the center of the world by ancient Chinese. Altogether 72 Chinese emperors in history have visited this place and offered sacrifices to Heaven. But the somewhat abstract concept is difficult to put across to foreign jury groups.
The 28th World Heritage Committee stipulates that one country applies for only one World Cultural Heritage each year, adding pressure for country who has a wealth of historical relic and natural sites, like China. And the Committee is likely to consider countries that have few cultural heritage sites.
Whether Songshan Mountain will make it into the World Heritage List remains to be seen on August 1st.
Editor:Liu Fang |Source: CCTV.com