Watch Video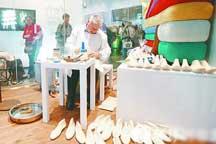 Play Video
Participants at the Shanghai World Expo don't miss any chance to show and promote their distinctive culture.
Italy Pavilion has re-opened its workshop to demonstrate the crafts of shoemaking, while Ecuador Pavilion introduces more than the beauty of orchids. Now let's stop by the pavilions and take a closer look.
This is one of the most visited pavilions at the Shanghai Expo. Having recreated a mini Italian city, Italy is showing what they are good at. One of the things the country is best known for is its perfectly fitting handmade shoes. A live demonstration of this craft by the best of the nation's shoemakers is slowing down the rhythm of Italy Pavilion's visitors.
And next month, Italy will show the techniques behind their handmade luxurious handbags.
While for orchid lovers, Ecuador Pavilion is a must see. Horticulturist Alexander Hirts is the host of a lecture that reveals Ecuador has over 4,200 types of orchids, more than any other country in the world. It's a gift of the country's complex geographic conditions along the equator.
Another lecture at Ecuador Pavilion is presented to introduce the country's ancient Valdivia culture.
Also hosted by Hirts, the lecture shows one of the oldest civilizations of the Americas through numerous pictures.
Editor:Liu Fang |Source: CCTV.com