Watch Video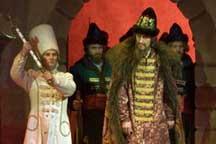 Play Video
Stars from the Moscow Bolshoi Theatre de-camped to the Russian provinces last week, for a rare open-air staging of Rimsky-Korsakov's "The Maid of Pskov".
The show, which is based around the story of Ivan The Terrible, was performed for the first time in its historic homeland, the Pskov Kremlin, the actual setting for the opera. The performance also marks the 500th anniversary of Pskov becoming part of the Grand Duchy of Moscow.
Actors and singers took part in final dress rehearsals, practicing epic moves throughout the extended set outside the old Kremlin walls.
This production of "The Maid of Pskov" was directed by Yuri Laptev, a Marinsky Theatre soloist, and Russian Presidential Adviser on cultural issues. Laptev is enthusiastic about the challenges the space presents for both audience and performers.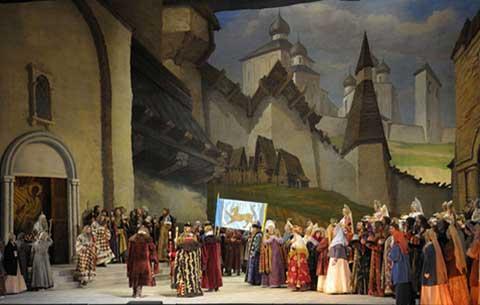 Still of "The Maid of Pskov"
Yuri Laptev, director, said, "If, as they say, the theatre teaches a person about life, where in a normal theatre the audience is far away from the action, here there is nowhere to hide. Here everything is visible at 300 meters. So they can see exactly how Ivan the Terrible greets the people. He has to run in and hit his marks exactly, in time with the music - actually it's a good place for teaching actors professionalism."
The opera is set during Ivan the Terrible's campaign to repress the cities of Pskov and Novgorod. It tells the story of two star-crossed lovers - Olga, the daughter of the tsar's deputy in Pskov, and Mikhail Tucha, leader of a rebel group against Ivan the Terrible, who turns out to be her father.
There are practical and musical challenges which performers face in the open-air staging.
Yekaterina Shcherbachenko, singer playing "Olga", said, "They have done all they can to give us the best conditions. There are TV monitors everywhere, with the sound and the picture of the conductor. Of course it is difficult, but here one has to depend on a conductor who understands the situation, and is trying to help us out."
A total of 500 people were involved in the performance, including soloists, the choir and the orchestra of the Bolshoi Theatre, as well as performers from the Marinsky Theatre in St Petersburg.
Members of local military-historical clubs, who are more used to staging battle re-enactments, also joined in as extras, as did a detachment of troops from the Pskov army.
The project is being supported by Pskov Governor Andrei Turchak, who hopes to develop the city's tourism industry. He plans to continue his efforts by staging an annual opera festival.
Editor:Liu Fang |Source: CCTV.com